INDUCTRIO
TOUCHED BY FIRE
Take your cooking to new heights with CUCKOO's patented induction heating technology.
Retail Price
RM3,100
Free 1-year Service
for Outright
Monthly Rental
RM100
Free 5-year Service
for Rental
What is Cuckoo GOOOD PLAN?
GOOOD PLAN
6 FLEXIBLE RENTAL PLAN
CATER TO YOUR NEEDS
| | | |
| --- | --- | --- |
| 60 months | 48 months | 36 months |
| RM100 | RM120 | RM140 |
| 30 months | 24 months | 18 months |
| RM160 | RM180 | RM200 |
About Cuckoo Induction Hob
Some Fact

Direct Touch Sensor
Sensor directly touches the pans so that accurate control temperature is possible and 32 degrees higher than existing ultra-high temperature mode. This make stronger high temperature function that lead to faster and even better taste.

One Touch Direct Control
Powerful cooking heat up 10 levels of temperature adjustment, booster and various functions with simple touch.

IH Ultra-High Temperature Model
Cuckoo unique Thermal-Control Technology that can quickly and easily complete delicious dishes by reducing cooking time and fine-tuning the energy of the fire such as steak, fish and pancake.

Voice Navigation Cooking Alarm
Regular alarm of basic and progress of cooking. Enjoy safer cooking experience.

Minimising Electricity Cost
With no operation for a certain period of time, power turns off automatically.

German Masterpiece Ceramic
During the firing process, Klingenberg unglazed porcelain tiles are give the KERA clean ceramic surface treatment. This makes them extremely easy to clean and resistant to the formation of all kinds of stains which can be removed easily from the tiles.
All you need to know
SPECIFICATION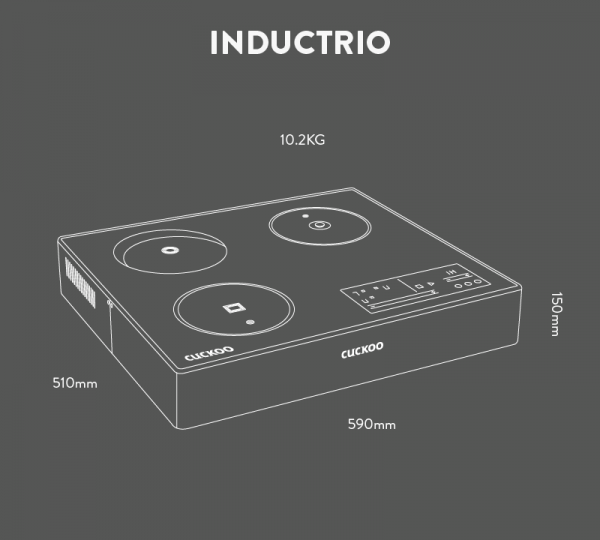 Model
CUCKOO INDUCTRIO
Size
588 mm (W) x 508 mm (D) x 67 mm (H) – Built-In
590 mm (W) x 510 mm (D) x 150mm (H) – Stand case
Weight
10.2 kg
Burner zone
2 Induction + 1 Ceramic
Surface
Schott Ceran German Glass-Ceramic
Power consumption
3300 W (max)
Induction 1: 1800W / 2000W ( Booster)
Induction 2: 1800W / 2000W ( Booster)
Ceramic: 1800W
Power Supply
220V / 60 Hz
Heating level
Level 1 – 10
Voice Navigation
English